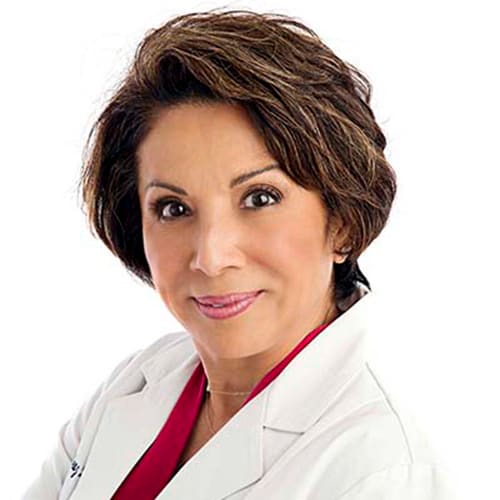 Dr. Bernadine Cruz
Teacher, doctor… teacher, doctor, while growing up in Los Angeles, Bernadine couldn't decide which profession she wanted to pursue.  She had contemplated entering human medicine but had a nagging fear that she might get bored. But by becoming a veterinarian, she could be a pediatrician to gerontologist, a surgeon or behaviorist, internist or general practitioner and all the while be an educator-SCORE!
Attending UC Davis was a culture shock… small-town life, riding bikes, country swing dancing and 121 classmates who worked hard and played hard.  Her 4 years of veterinary school were some of the best in her life.
A stint at the Los Angeles Zoo was where Bernadine encountered Caesar, a juvenile low land gorilla who is still the most memorable animal she has ever met. She has served the needs of other spectacular animals while venturing to Alaska, Canada and Minnesota as a trail veterinarian for numerous sled dog races including the Iditarod and Yukon Quest…brrrrrh cold!
Bernadine has been able to follow her passion of educating the public by acting as a veterinary medicine multi media consultant for several major veterinary pharmaceutical companies, along with being featured on local and national television shows such as the Early Show, the Today Show, the Doctors and Inside Edition.
She is the creator and host of the internet based radio show, 'the Pet Doctor', part of PetLifeRadio.com. She wrote the edu-taining book 'the Secret Sex Life of Dogs and Cats' and has been given the moniker of 'America's Pet Pediatrician'.
Dr. Cruz began her career at Laguna Hills Animal Hospital in 1986.  She cherishes having become a health team member to so many pet parents and their fur babies (she has two cats of her own).
When not at the office, experimenting in the kitchen, gardening, traveling (Tibet stole her heart) and staying close to her daughter and three grandgirls keeps her busy.